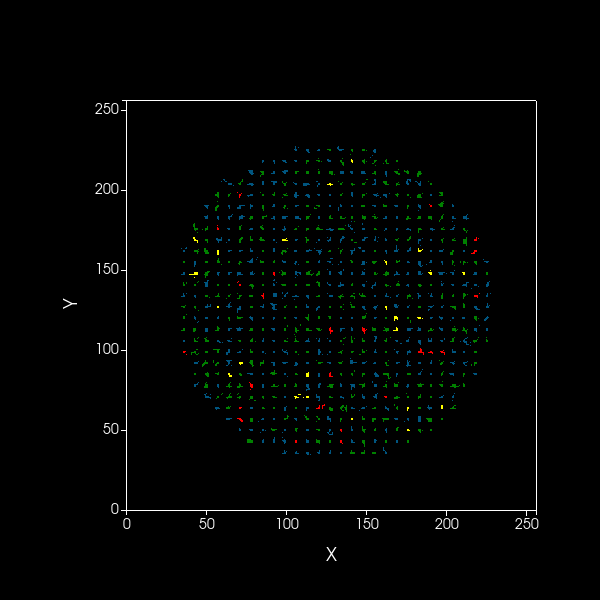 Simulation of spatial model showing dynamics over 1000 timesteps of A (blue) and B (green) cooperators, as well as dormant A (red) and B (yellow) cells, on a 2D plane. Black edges are present to distinguish between cells.
Interactions between species or strains can be considered mutualistic when each species benefits from the presence of the other. Mutualisms are very common in nature, such as the relationship between plants and their insect pollinators. In bacteria, one form of mutualism occurs when different strains produce resources that can be used by different strains. However, while receiving benefits from a mutualistic partner can increase growth of an organism, producing the benefits for that partner might be costly. These costs may inhibit the evolution of these mutualisms or perhaps lead to cheating, where some individuals receive the benefits of the mutualism without producing any costly resources themselves.
Dormancy, where certain individuals become inactive for some time, may help to stabilize these relationships. For instance, while the costs of mutualism may lead to a disadvantage when resources are abundant, the mutualism may still be beneficial when resources are scarce. A seed bank of dormant cells may allow mutualistic cells to persist when selection favors cheaters until periods where it favors cooperation. Additionally, environmental stochasticity can lead to extinction of one of the two partners by chance. A seed bank can drastically reduce this probability by maintaining a reserve of individuals of both partners.
To model situations where dormancy can help maintain cooperation, I developed two individual-based models (IBMs): one non-spatial, and one spatial. Both implement cells as the primary individuals, or agents, and these cells can be of two types existing in a single population. They both share a common resource and produce secondary resources that can only be used by the other cell type. Both implement stochastic processes and allow individuals to make decisions based upon their current attributes. For more information about implementation, please go to the project GitHub repo.
These models have shown that when two mutualistic species are capable of dormancy, they can coexist in the long-term despite extreme resource limitation. Normally, without dormancy, neither species can survive, and without cooperation, one strain will go extinct. With both dormancy and mutualism, both are maintained. In the future, both models will require thorough parameter sweeps to identify precise parameters where dormancy increases the probability of coexistence.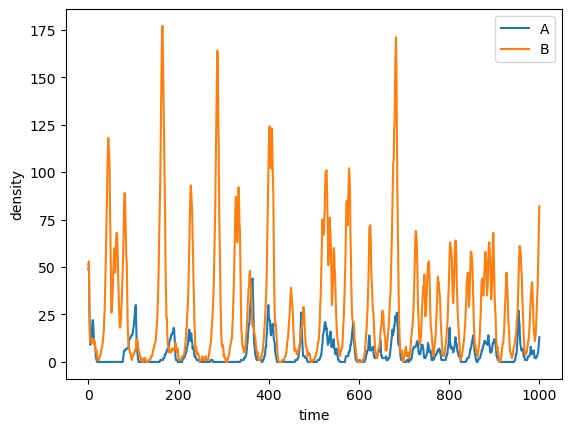 Despite long periods of energy limitation, dormancy helps mutualist survive and coexist in the long-term.